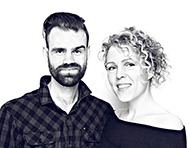 Tobias & Hanne
Scheel Mikkelsen
WhatWeDo
Sønder Boulevard 98
1720 Copenhagen
Denmark

Contact
Tobias Scheel Mikkelsen
+45 6165 1613
tobias@whatwedo.dk

PDF Portfolio
· Tobias Mikkelsen PDF Portfolio
· Hanne Scheel PDF Portfolio

Websites
· www.tobiasmik.dk
· www.hannescheel.dk

More Work & References
· www.rapportlayout.dk
· www.explainer-animation.dk

Posters
Contact / Info
We are driven by curiosity, creativity and a desire to produce functional design with a fun and inspiring edge
Who Are We?
We are an architect/graphic designer couple who teams up both in private and at work. Since 2008 we have worked together across different media and disciplines. Hanne works as interior designer with a bachelor degree from The Royal Danish Academy of Fine Arts, School of Architecture (KADK) and Tobias holds a bachelor in graphic design from The Danish School of Media and Journalism (DMJX).
We work for communication- and advertising agencies, but also directly with marketing departments. Besides freelancing we also design, market and sell our own art print collections. Check out our art print collections at www.faunascapes.dk and www.musaeo.com
Our Services
Our solutions are simple and 'straight-forward' with that little cherry on top that makes them interesting and 'not cliché'.
We work with concepts, execution and production planning within several visual disciplines like spatial design, product design, small scale architecture, interior design, interior decoration, spatial identities, web design, advertising campaigns, illustrations, information graphics and graphic patterns. See examples and descriptions of our work here:
Customized Solutions
Our design solutions are always custom made. Regardless of the purpose and type of media, we always start by defining a core problem by asking the right questions. This provides us with a solid base of knowledge which helps us through our colorful idea generation process - which always results in a tight and on-the-spot koncept. The final concept is always presented with a budget and a detailed plan for execution.
Dedicated Partner
Our process is disciplined and dedicated and we always meet our deadlines and budgets. We work as subcontractors to communication- and advertising agencies, but also in direct cooperation with a companys marketing department.
We are always 100% dedicated to the execution of details and we always make sure that all ends meet to form a coherent whole. The concepts are always executed by us or in close cooperation with handpicked consultants/creatives to reach the best results. During the execution we look at danish and international design trends without loosing track of the overall concept and we always deliver a little more than we're asked – because we love our job.
Contact Us
Please contact us for more information about our process - we would be happy to work for you!