Spatial Identity and Refurnishing for IT Company
The danish IT company Platon resides in Mercedes Benz's former danish headquarter. Platon asked us to come up with a proposal for new interiors for meeting rooms and lounge area.

Highlights:
• 23 meter long relief
• Inspiration room with whitebard table
• Auditorium with floor to ceiling backlit photo murals
• Custom designed AV Furniture
• Identity graphics

Study the presentation boards

The solution is centered around the Four Cast chair series from Four Design. The trademark of the series is a triangular fold in the back of all the chairs.
We took the triangular shape from the chairs and used it for the spatial identity - f.ex. in the choice of lamps, in the shaping of the AV-furniture and in the design of the decorations for the glasswalls in the meeting rooms.
Platon is the greek name of the philosopher Plato. We interpreted Platos ideas and the philosphy of the company and incorporated it in a custom made relief, a wallpainting, and a bookcase shaped as a speach bubble.
The general selection of colours was of course aligned with the identity of the companys marketing materials.

See detailed descriptions below the pictures at the bottom.
The presentation was made on 8 boards size A3 with pictures of the chosen furniture, selected views and floor plans.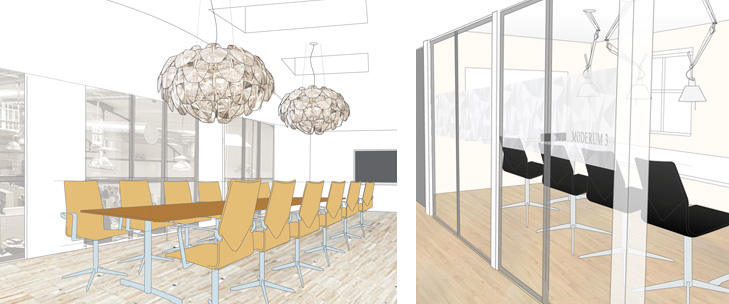 Perspectives from the board room and meeting rooms in general. The chairs and tables are from Four Design. The big lamps in the board room is Hope from Luceplan. The lamps in the meeting rooms are called Tolomeo.

Pattern for glas wall decorations in the meeting rooms.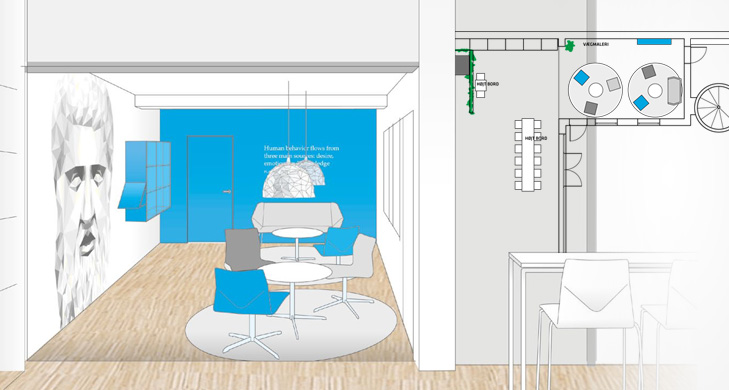 Perspective and floor plan from the lounge area. The lounge area is in one end of the big hall once used as Mercedes Benz's car showroom. The chairs are from Four Design. The Lamps are Diesel Rock from Foscarini and the sofa is called Rosebud and is designed by the finnish designer Ilkka Suppanen.

Elevations of 2 walls from the lounge area. The stylised drawing of Plato is a wall painting and the speech bubble is a custom made book case.


Elevation and 3D visualisation of the 23 m wide relief that decorates one of the walls in the big hall.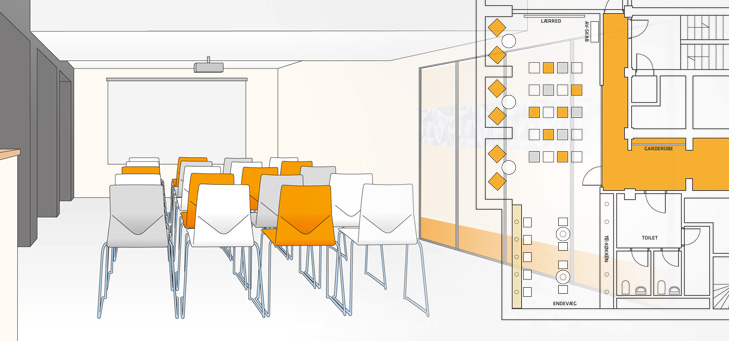 Perspective, floor plan and elevations from the auditorium. One of the walls features a giant backlit mural with photos of a greek temple. The lamps are Louise Campbells Caravaggio.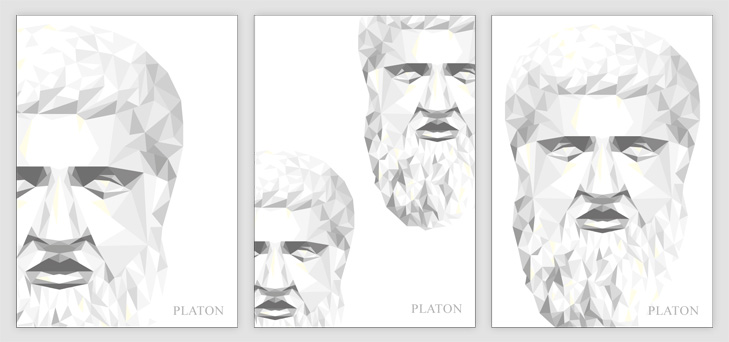 Identityposters made with the graphics from the wallpainting in the lounge.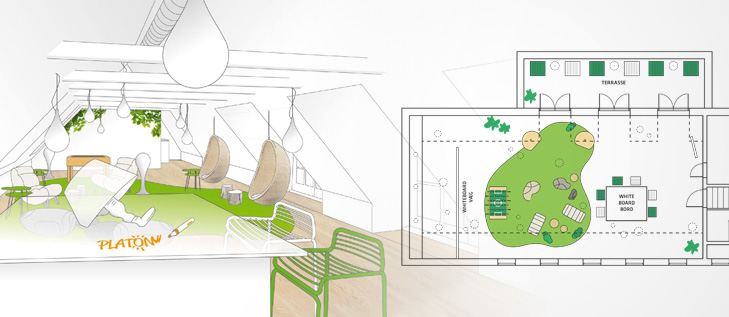 Perspective and plan of the inspiration room featuring a parade of inspiring an witty furniture: HAY chairs, Nana Ditzel hanging chair, a whiteboard table, Cloud Chair from Design House Stockholm, Livingstones, The Titanic Lamp, Liquid Light Drop from Next and tables from Offect.